The Recharger Hand Soap
Get that extra dose of freshness for in-between...
5 litres bulk refill
Easy refilling thanks to the pump
Saves lots of plastic
Gently cleanse your hands
Valuable oils nurture the skin
Our Recharger Hand Soap removes all dirt from your hands without stripping them of moisture. Prickly pear seed oil and argan oil nourish your hands as you wash them and ensure your skin doesn't lose moisture.
The story behind the product
We believe that nature provides the best ingredients for your skin. That's why our products are 100% natural. We are constantly searching for the best active ingredients for individual skin needs. With the cleaning and care products of the Cactus series, our goal was to create products that are suitable for almost every skin type and protect your skin from premature ageing and external influences such as sun rays or cold. In the process, we came across the prickly pear. The prickly pear not only has wonderful properties for skincare but is also very sustainable. It grows under the most challenging conditions and needs very little water. To make our products even more sustainable, we offer some of our products as bulk refills. This way we can save a lot of plastic together.
I clean your hands without drying them out.
Prickly pear seed oil & cactus flower water
We are both extracted from the prickly pear cactus and its flowers. We keep your skin hydrated throughout the day and help your skin better retain its own moisture. With the many vitamins and phytonutrients contained in the oil, an antioxidant effect is created that can protect your skin from premature ageing.
Grapefruit Extract
Obtained from the seeds of grapefruit, I make your skin velvety and soft. Moreover, I also have an inhibitory effect on bacteria and thus help against blemished skin.
Argan oil
I contain a lot of antioxidants, essential fatty acids and vitamin E. Thus, I act as a moisturizer even for very dehydrated skin and protect your skin from harmful environmental influences.
Rub a small amount of me between your wet hands for 20 seconds, then wash me off with lukewarm water.
Aqua – Water - Dissolves many of the ingredients that impart skin benefits
Opuntia Ficus-Indica Flower Extract* - Prickly pear blossom water - rich in essential fatty acids, nourishes and protects the skin
Glycerin – Glycerol – Moisturizes and helps to maintain the healthy state of our skin
Sodium Coco-Sulfate - Ester from sulfuric acid and coconut fatty alcohols (sodium salt) - Helps the product spread easily and evenly, acts as a cleansing ingredient
Coco-Glucoside - Vegetable origin (coconut kernel oil) cleansing agent – Gives moderate to high stable foam
Maris Sal – Sea Salt – Keeps the skin in a good condition
Betaine – Betain - Betaine – Has a conditioning effect, reduces irritation and protects against dehydration
Opuntia Ficus-Indica Seed Oil* - Prickly pear seed oil - Helps to regenerate cells and makes the skin appear younger.
Tocopherol - Vitamin E – Protects skin cells from free-radicals
Citric Acid – Citric Acid – Is an AHA and acts as an exfoliant, gently lifting off dead skin cells of your skin
Citrus Paradisi Fruit Extract* - Grapefruit – Has an astringent, detoxifying and connective tissue strengthening effect
Lysolecithin - Lysolecithin (modified Lecithin) – Helps things like water and oils mix together
Levulinic Acid – Levulinic Acid – Makes the product smell nice
Sodium Cocoyl Glutamate - Reaction product of glutamic acid with coconut fatty acids – Helps create mild cleansing formulas
Argania Spinosa Kernel Oil* - Argan Oil – Greatly nourishes and moisturizes skin and hair, revitalized and improves skin elasticity
Disodium Cocoyl Glutamate – "Disodium ..." refers to a disodium salt.
The part of the name "Cocoyl" means that the ingredient can be used as a fatty acid component. Contains fatty acids from coconut oil (Cocos Nucifera Oil) (usually introduced via an acylation reaction). Glutamates are salts or esters of glutamic acid (2-aminopentanedioic acid, an amino acid). – Used as a cleanser for the skin
p-Anisic Acid – P-Anisic Acid – Masks certain smells of the product, used as a preservative and works against fungi
Potassium Sorbate - Potassium Sorbate – Acts as a preservative so that your cosmetic products do not go wrong too soon
Parfum - Perfume – Improves the smell of a product
Limonene** - Limonene – Makes the product smell nice
Linalool** - Linalool – Makes the products smell nice

Citral** - Citral – Fragrance ingredient that smells like lemon
Does the soap have an antibacterial effect?
Washing your hands with our soap for 30 seconds removes 99% of germs and bacteria.
Is there a refill option for the hand soap?
We currently offer a 5L refill canister and are working on other refill solutions for all of our 500ml cleaning products.
What is the pH-value of this product?
4,9 - 5,5

Hej,
we are so happy to see you here! The correct disposal of your product brings us a step closer to our mission, namely to accelerate the world's transition to sustainability. Here you can find a detailed description how which part of your product should be recycled.
The bottle and pump are made out of PET plastic and should be recycled in the plastic waste.
The perfect routine
Step 1: Cleansing
Our Recharger Hand Soap cleans your hands thoroughly without drying them out. The contained oils provide nourishing and moisturizing effects even while washing. Rub a small amount between your wet hands and rinse with lukewarm water.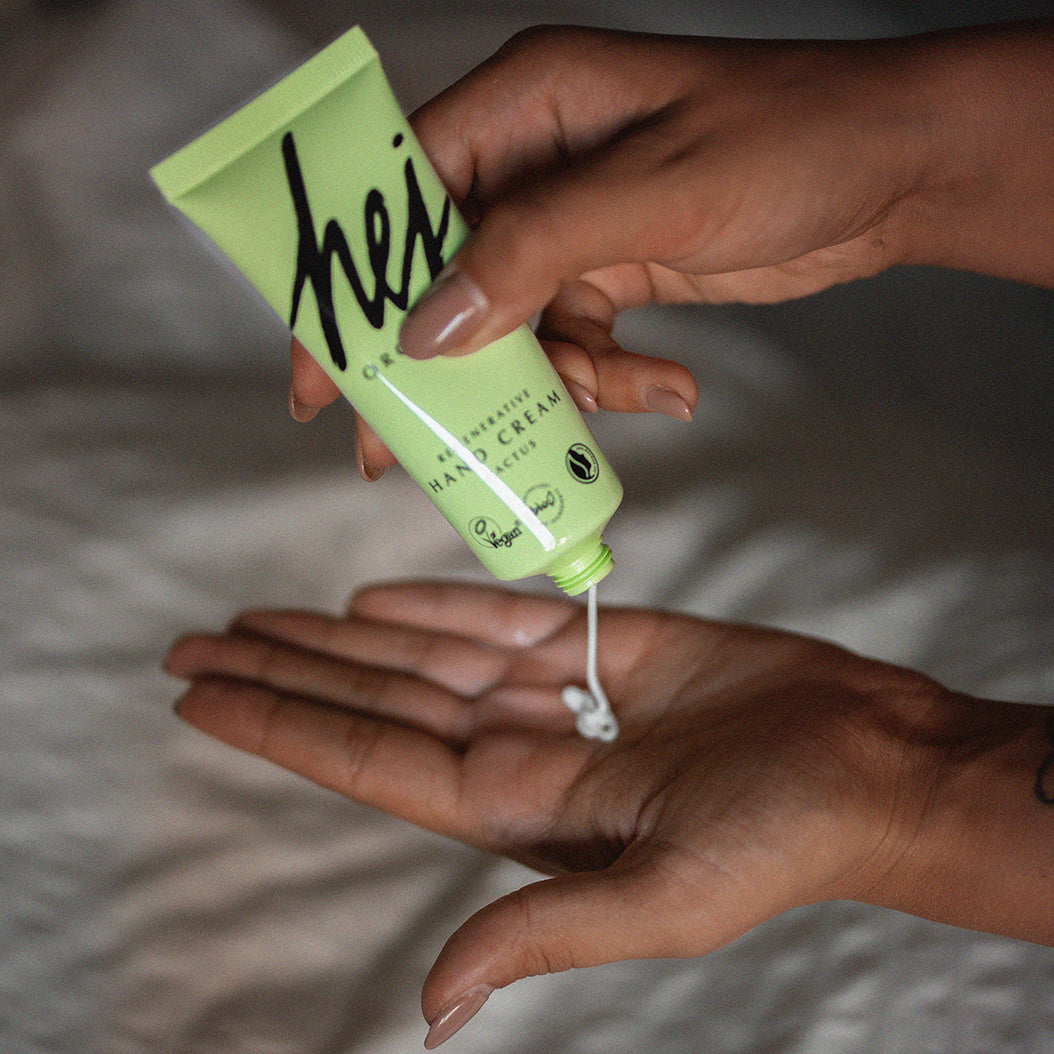 Step 2: Care
After washing your hands, massage a small amount of our Softy Hand Cream into your skin. It will instantly make your hands softer while preventing and eliminating any dryness or cracks. As the hand cream is natural, you may use it as often as you like. In most cases, it is enough to use it once or twice a day to keep your hands moisturized.